Christmas at LCC 2022
This year, start a new Christmas tradition and join us at Linwood Community Church. We will have special services and events with encouraging messages that remember the events of that first Christmas.  There will be special uplifting music and something for everyone in your family. We believe in building authentic relationships, raising strong families, and staying connected to the community. Bring your family to celebrate Christmas with our church family!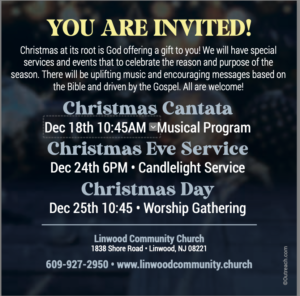 Christmas Cantata
Celebrate the arrival of the Messiah with scripture meditations and special Christmas selections from our vocal and handbell choirs. December 18th at 10:45 AM
Christmas Eve
You are invited to celebrate Christmas with us.
The Christmas Eve service will include uplifting music, scripture readings, and a message about the purpose and meaning of Christmas, at the heart of which is God's offering of the gift of salvation to you!
There will be both modern and traditional music with candles concluding the service.
Complimentary cookies and hot cocoa with live Christmas music will be provided afterward.
A special bonus treat is that there will be several of our LCC musicians offering live Christmas music in the lobby before and after the service.
Christmas Day
This year Christmas falls on the Lord's Day, Sunday. We will have a normal corporate worship gathering with the regular worship elements. This will be a more "low-key" informal service, however.